Long time no blog friends! Its been a busy 19 months with my son Jaden, but I'm finally back and ready to give you guys some info on fresh new products, colors, styles and cuts.  Stay tuned  for photos,  blogs, coupons and special offers to come every month!
But first Id like to introduce to you one of my new favorite miracle conditioning treatments! I'm so excited to share this with you because I know every ones head can benefit from this.  Its by Aquage and its called Silkening Power Infusion treatment. I was introduced to it in October by Aquage at the Fashion Focus hair show. Since then I began to carry at salon at a cost of $22 so you can take home and use once a week, but I also offer a salon treatment for $10. Sometimes we are in such a hurry or in a routine we forget to pay attention to the condition of our hair. Here's a few reasons how your hair can benefit by using this treatment for just 60 seconds.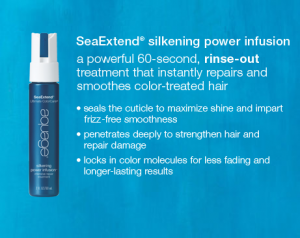 silkening power infusion details
what it is
a powerful 60-second, rinse-out treatment that repairs and silkens color-treated hair.
why you should use it
replenishes moisture to restore hair's silky, natural feel
contains exclusive Algaeplex technology with the healing powers of organic seaweeds and algae
no sulfates, sodium chloride or parabens; safe for keratin-treated hair
when to use it
use once weekly or as needed in place of your daily conditioner
how much to use
spray generously to thoroughly saturate the hair from root to tip
how to use it
shampoo hair with any SeaExtend shampoo
spray Power Infusion on slightly damp hair from 4-6 inches away
comb through, leave on for 60 seconds and rinse out; style as usual
This treatment is simply amazing ladies. It gives the most incredible shine! This conditioner is also a great sealant after a color service to help lock in color! Call today to schedule your appointment.